I felt suddenly inspired when I saw the theme of this week's
Lolita Blog Carnival
challenge! But actually I didn't end up doing the theme I had first wanted to do. My first thought was "Atlantis Coordinate!" but then summer vacation hit me, and as I'm currently sitting in the cozyness of a small danish holiday town, I was overcome with the desire to do something inspired by the idyllic, danish summer by the sea in Skagen.
What came out of that, was a coordinate inspired by the history of the Skagen's Painters, specifically Marie Krøyer.
Marie was a very talented painter, but never became as famous as her husband, P.S. Krøyer. She was a passionate woman, who suffered from bad self-esteem. None the less, she held her own, despite the victorian age she was born in, got divorced and re married for love.
Her paintings were truly beautiful.
However, I'm basing my coordinate around some portraits off her, by the ocean.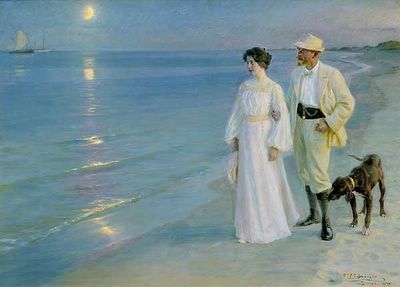 And here's a still from the new movie, "Marie Krøyer"
And here's the coordinate I made!
I decided to make a very simple coordinate, cased on a very feminine, lacey dress. I wanted a high necked blouse with simple, old fashioned lace detailing like the one she wears in the movie. The gathering around the bust of Angelic Pretty's Rose Garden JSK seemed very characteristic too. You could leave out the bonnet, but I wanted some kind of headwear. The golden rose brooch is one that Marie Krøyer wears in this darker
selfportrait
. A victorian updo is a must, I think! I tied in the marine theme in the bracelets, but I kept them modest, to fit Marie Krøyer's style. All in all, I think it turned out as I wanted it to. It's all about a summer in Skagen. All it needs, is a parasol, and you're ready to go for a walk on the beach!
Want to see more summer appropriate "sea coordinates"? Check out the other participants below!